CSX: "Action in the Alleghenies" Cumberland - Deer Park 1987 - 1995 with Baltimore & Ohio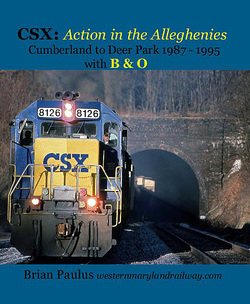 It's early CSX action [covering the years of 1987-1995] in the Allegheny Mountains as we tackle the Mountain Subdivision [the former Baltimore & Ohio West End of the Cumberland Division]. We'll begin in Cumberland Terminal enroute to Viaduct Junction and cross the 1909 Cumberland Viaduct. Once across the viaduct we go westward through West Side, Roberts, McKenzie, Pinto, Rawlings, Dawson, 21st Bridge(s), McCoole, Keyser, Piedmont, the Westvaco Paper Mill and head up famous Seventeen Mile Grade via Bloomington Viaduct, Bond, Frankville, Hitchcock Tunnel, Wet Cut, Swanton, Wilson, Altamont at the "Summit of the Alleghenies" where the top of a locomotive is actually over one half mile in elevation, and concluding at famous Deer Park, Maryland (over 50 miles of mainline action).
You'll see interior scenes of the old interlocking towers of: Viaduct Junction, West Keyser, Piedmont and Altamont, complete with operators (all four towers are closed and only one remains today). Plus a section on the B & O's National Limited, the Savage River Dam and the 1985 Seventeen Mile Grade wash out. Special trains include the 1992 CSX B&O Anniversary Train which had a consist of seven units and nine cars, the Chessie Steam Special and Chessie's Safety Express, MARC on the Mountain and Western Maryland BL2 7172 with much more on predecessor Baltimore & Ohio and Chessie System. It's 100-pages of action and information printed on Blurb's Premium Paper with Lustre Finish.
To order:
http://www.blurb.com/b/6763645-csx-action-in-the-alleghenies-cumberland-to-deer-p
---