CSX: The Georges Creek 1987 - 1994 with WESTERN MARYLAND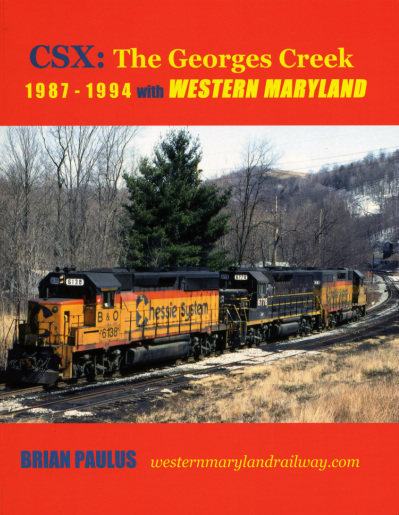 The historic coal hauling route of the Georges Creek (now abandoned), formerly the Cumberland & Pennsylvania Railroad, is seen during the early years of CSX, 1987 - 1994. Starting at Twenty First Lane we'll travel across Twenty First Bridge and around Queens Point Mountain to McCoole, Poland, Westernport, Luke and Piedmont (where the C & P interchanged with B & O).
We'll then jump back across the river and head up the Georges Creek Sub through Westernport, Franklin, Phoenix, Morrisons, Camel Straights, Barton, Dawson, Nikep, Lonaconing (Coney), Knapps Meadow, Lonaconing Jct., Midland, Neffs Run, Ocean and end at Consol 10 near Carlos. Next we'll head to the top of the hill at nearby Frostburg and begin our trip down the old C & P route to Cumberland from Number 9, Zihlman (Allegany), Mount Savage, Mount Savage Jct., Eckhart Jct., Redrock (C & P) and arrive in Cumberland at the site of the old C & P Hay Street Station. Also included is the Western Maryland Railway (who acquired the C & P during World War II), seen through the cameras of Thomas A.Biery, Samuel L.Wagner, Bob Markle and more! There is also a special section on the new Georges Creek Railway (GCK) and their history using authenic WM power, headed up by owner Gerald Althizer.
It's 106-pages of action and information printed on Blurb.com's quality Premium Paper with Lustre Finish for crisp, clear photography.
Use this link to purchase this book:
http://
www.blurb.com/b/7307161-the-georges-creek-1-9-8-7-1-9-9-4-with-western
---