THE WESTERN MARYLAND RAILWAY VOLUME II WITH BALTIMORE & OHIO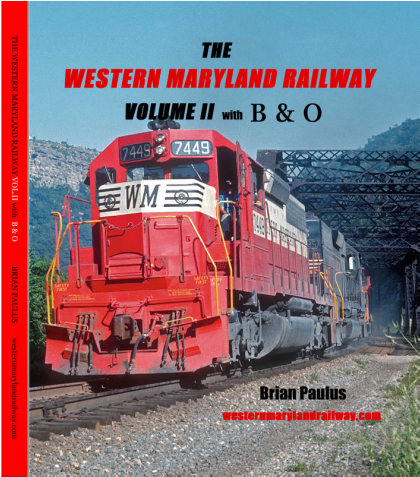 This is a follow up to "The Western Maryland Railway...Cumberland to Hagerstown & The New Line" as the famous Western Maryland Railway returns in Volume II. Trains are seen from Hagerstown, Maryland to Connellsville, Pennsylvania and from Cumberland, Maryland to Spruce & Webster Springs, West Virginia via Elkins.
The Western Maryland is covered with all new photos from the 1940s, 1950s, 1960s & 1970s!! See action in the Potomac River Valley and across the rugged Allegheny Mountains, including Maryland Junction, State Line Junction and Eckhart Junction and a lot more!
​We'll also cover action on the Baltimore & Ohio from Harpers Ferry-Maryland Heights to Grafton during the same time period connecting the East End of the Cumberland Division with the West End via Cumberland (and the Patterson Creek Cutoff); this includes the Queen City Station and the B & O's famous Cincinnatian
.
​
It's the railroad photography of Tom Biery, Wayne Brumbaugh, Bob Kaplan, James Marcus, Bob Markle, B&O Dispatcher: James McFarlane, Rick Morrison, Tom Nemeth, Bill O'Hara, Jim Paulus, WM Operator: Samuel L.Wagner, Howard J.Wayt and more.
Printed on Blurb.com's quality 100# Premium Paper with Lustre Finish for crisp, clear results. It's 124 total pages available in Softcover.


​Use this link to purchase this book:
www.blurb.com/b/7428645-the-western-maryland-railway-volum-ii-with-b-o-br
​
Just released:
CSX: Sand Patch Assault ... Volume I ... 1987 - 1997
with
B & O ... Cumberland to Meyersdale
See page 10 for all information and an ordering link for this brand new, 100-page book from Blurb.com
The
Western Maryland Railway ...
Baltimore to Cumberland & The New Line ... Volume III update:
This 152-page softcover book will retail for $33.99
I received an update from AuthorHouse and they did say their printing system had a problem and that the book is currently being reprinted and hopefully it will be ready before the end of this month (Feb), once again thank you for your patience.
​
​
​
---